Prof. Dr. Wolfgang Kaiser
Chairholder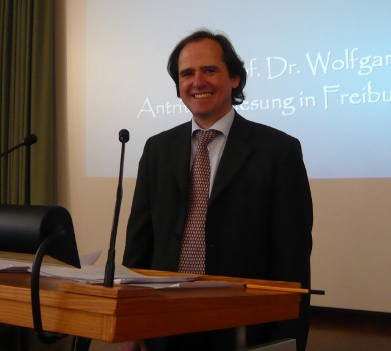 Address

Institut für Rechtsgeschichte
Universität Freiburg
Platz der Alten Synagoge 1
79085 Freiburg

Phone:

(+49) 0761/203-2221 (office)

Room:

2530

Contact:
II. List of lectures
III. Curriculum vitae
A graduate of the humanistic Dom-Gymnasium in Freising, Bavaria, Wolfgang Kaiser enrolled in the Ludwig-Maximilians-Universität, Munich, in the winter semester of 1984/1985 to study laws. He was interested early on in the history of ancient and Roman law and began to visit seminars on these subjects at the Leopold-Wenger-Institute of History of Law (Department of Ancient Legal History and Papyrology), where he was soon employed as a student assistant. While studying for the law degree, Wolfgang Kaiser also heard lectures on ancient history and classical archaeology and visited the International School of Ius Commune in Erice, Sicily, several times to take part in courses that focused on the history of Roman law in the Middle Ages.
Wolfgang Kaiser passed the first state exam in 1989. He took a break from the curriculum leading up to the second state exam to work as an assistant to Dieter Nörr at the Leopold-Wenger-Institute for two years and to study Roman law at the Università Federico II in Naples, Italy. After the second state exam in 1994, he returned to the Leopold-Wenger-Institute and worked there as a research assistant until 2001. He specialised in Latin and Greek palaeography, visiting Florence, Naples, Verona, and other cities to carry out autopsies of manuscripts held by the local libraries.
Wolfgang Kaiser received his doctorate in 1998 for a thesis, supervised by Dieter Nörr, about a late antique Latin work on statutes of the emperor Justinian (Epitome Iuliani). In the summer semesters of 1999 and 2000, he taught Roman law at the Universität Bayreuth.
In the summer semester of 2001, Wolfgang Kaiser was habilitated (supervisor: Dieter Nörr). He followed a call to the chair of private law, European private law and Roman law at the Eberhard Karls Universität Tübingen in January 2002. In the summer semester of 2004, he received a call from the Universität Bonn to the chair of private law and Roman law, and another from the Universität Freiburg to the chair of Roman law, private law and modern history of private law. Wolfgang Kaiser followed the call to Freiburg to take up his current position of director of the Romanistic department at the Institute for History of Law in the summer semester of 2005.
On 26th July 2008, Wolfgang Kaiser was elected member of the historical-philosophical section of the Heidelberg Academy of Sciences and Humanities. On 9th September 2008, he was elected co-editor of the Zeitschrift der Savigny Stiftung für Rechtsgeschichte (SZ).
In the summer semester 2010, Wolfgang Kaiser followed an invitation to the Westfälische Wilhelms-Universität Münster to participate in a research project "Religion and politics in pre-modern and modern cultures", which is funded by the German federal government's excellence initiative.
In April 2010, the Universität Wien (Vienna) called Professor Kaiser as its first choice to take up the professorship for Roman Law, Romanistic Foundations of Modern Laws, and Legal History of Antiquity at its faculty of legal science.
Scientific awards
Premio Romanistico Internazionale Gérard Boulvert, Naples 2007 (best work in first monographies in Roman law)
Gold Medal of the Università Federico II, Naples 2007
Areas of research and interest
History of ancient and Roman law, in particular late antiquity; Roman law and local law in the provinces; Roman law in the early Middle Ages; tradition of the Roman law texts; juristic papyrology
Current research projects
Causae liberalis (for the Corpus der römischen Rechtsquellen zur antiken Sklaverei; Mainzer Akademie der Wissenschaft); edition of the Collectio Gaudenziana, a collection of Roman law from the early Middle Ages (to appear in Monumenta Germaniae Historica, section Leges)
Veniae legendi:
Private law, Roman law, history of canon law, modern legal history